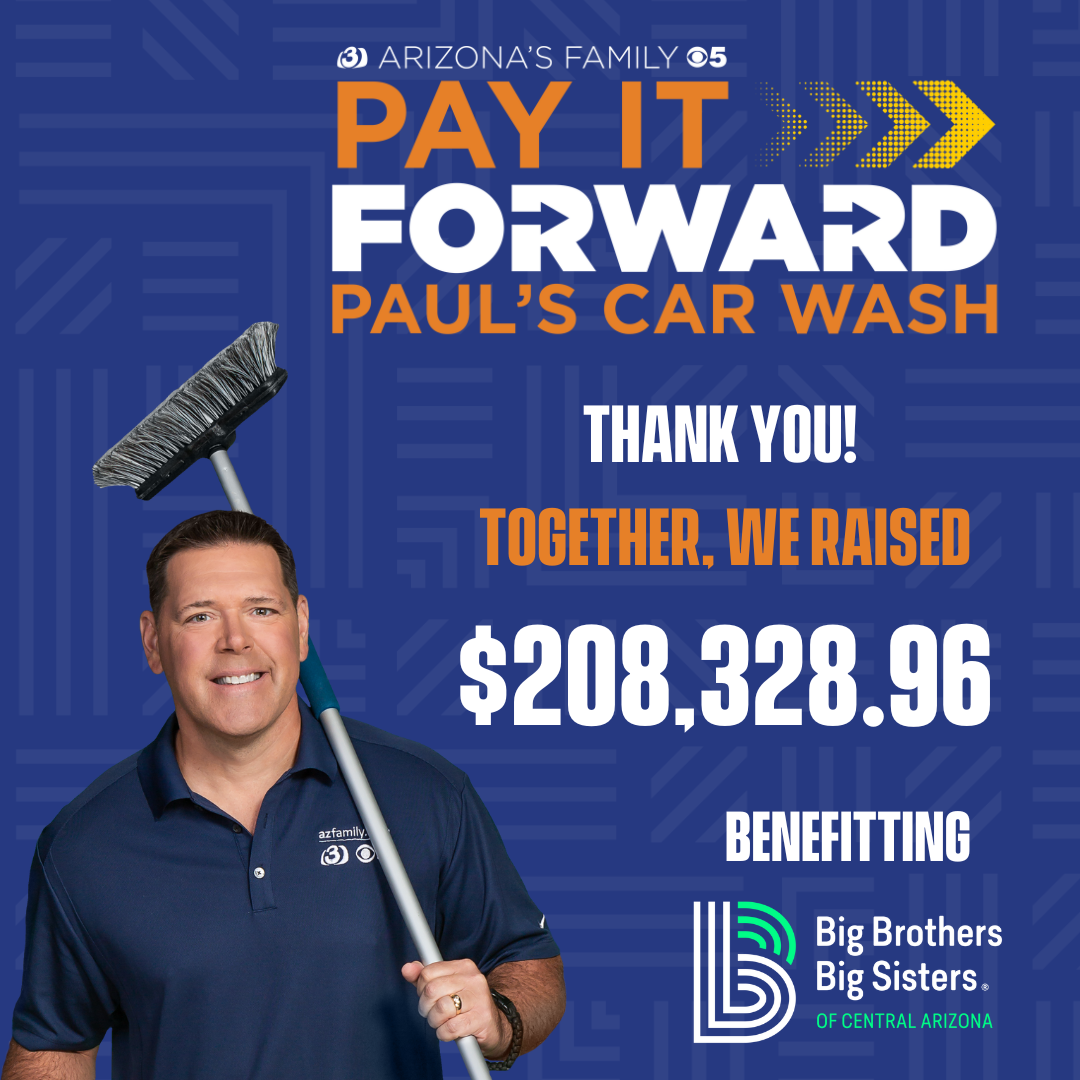 From October 16th through October 20th, more than 250 volunteers gathered to wash 700 cars at the 16th Annual Paul's Pay It Forward Car Wash! Each year, Arizona's Family Weather Anchor and Community Ambassador, Paul Horton, hosts Paul's Car Wash at Desert Ridge Marketplace in support of Big Brothers Big Sisters of Central Arizona. Supporters came from all over the valley to have their cars washed and join in this week-long televised celebration of the Big Brothers Big Sisters community. This year, $208,328 was raised! All of those funds will help BBBSAZ further its mission to create and support one-to-one mentoring relationships that ignite the power and promise of youth.
Paul's Car Wash 2023 featured so many highlights, including a visit from ASU's Sparky, the Phoenix Suns Gorilla, and the Phoenix Mercury's Scorch, a chalk mural by Rather Be Chalking, balloon hats by balloon artist Tim McConeghy, performers from the Arizona Accordion Club, performances by the Sun City Poms and fire dancer Tricia Moore, and nightly live bands. There were many animal visitors this year, including an armadillo from the Phoenix Zoo, service dogs from Gabriel's Angels, a cow and ducks from the Canyon View FFA, snakes from the Phoenix Herpetological Society, and a porcupine from the Wildlife World Zoo! Some attendees even received awesome giveaways, like tickets to the Arizona State Fair, spa days at The Fairmont Scottsdale Princess, and free tickets to the NASCAR series. We also had a surprise donation from the Arizona Accelerator Charities. Check out all the photos from Paul's Car Wash 2023 here!
Thank you to all of our amazing community volunteers who battled the heat to wash an amazing number of cars! And a huge thank you to our sponsors, including Super Star Car Wash, Amazon, Waymo, Lerner & Rowe Gives Back, Charles Schwab & Co., Inc., Bashas' Family of Stores, Fairmont Scottsdale Princess, and Cox!
We look forward to seeing you all at Paul's Car Wash in 2024!
If you are interested in sponsoring or volunteering for next year's Paul's Car Wash, please email the Director of Event Operations Aimee Johnson at ajohnson@bbbsaz.org.