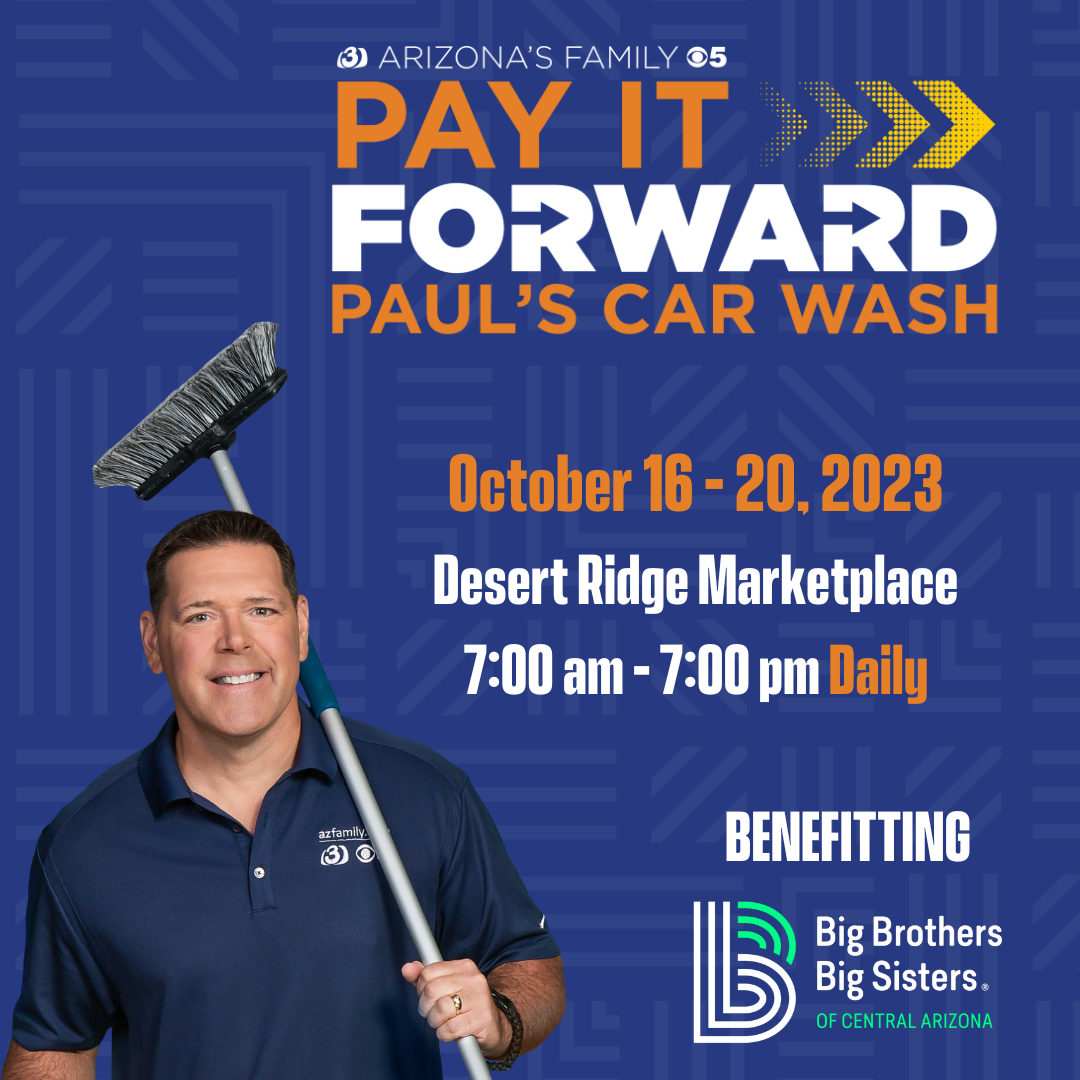 Paul Horton's Pay it Forward Car Wash is an annual week-long televised celebration of the Big Brothers Big Sisters community that is hosted by Arizona's Family Weather Anchor & Community Ambassador, Paul Horton. This year's event will take place at Desert Ridge Marketplace in the Kohl's parking lot every day from October 16th through 20th. Between the hours of 7 a.m. to 7 p.m., with the support of over 200 volunteers, we plan to wash more than 700 cars throughout the week! Be sure to plan your trip now to visit us to get your car washed to support BBBSAZ, and receive one of our awesome goodie bags that is packed with items from our sponsors. Paul's Car Wash is more than just a car wash; it is full of surprises, like live bands, live animals, artists, celebrity sightings, and MUCH more. You definitely don't want to miss out!
Check out all the photos from last year's Paul's Car Wash here! And watch the recap video of all of the fun below:
The money raised during this event will go towards helping BBBSAZ build long-lasting, one-to-one mentoring relationships between adult volunteers and youth ages 6-18. If you or someone you know is interested in becoming a Big Brother or Big Sister please contact Patrick Phillips, Director of Community Outreach at pphillips@bbbsaz.org, or visit our website here.
A huge thank you to all of our hard-working community volunteers and our amazing Sponsors, including Super Star Car Wash, Amazon, Lerner & Rowe Gives Back, Waymo, Charles Schwab & Co., Inc., Bashas' Family of Stores, Fairmont Scottsdale Princess, and Cox Communications!
We look forward to seeing you all at Paul's Car Wash 2023!
If you are interested in sponsoring or volunteering at Paul's Car Wash next year, please email our Director of Event Operations, Aimee Johnson, at ajohnson@bbbsaz.org.