As a youth mentoring organization, our mission is that all youth achieve their full potential. To help in creating as many new experiences as we can for our Matches, our employee-led Match Engagement Committee has set a goal of hosting at least 1 event a month.
In February, we hosted a hike at North Mountain Park up to the Satellite Towers. It was a challenge as this is a steep hike, but our Matches, especially our Littles, were determined. We enjoyed each other's company, learning about the likes and interests of our Littles, Bigs, and what they like to do as a Match. The best part of these outings is our Matches get to interact with other Matches. Bigs get to bounce ideas off each other, they get to talk about challenges and how they worked through them, and they get to meet each other's amazing Littles. For example, Big Brother Anthony & Little Brother Isaiah have been matched since 2014. We learned that Isaiah is going to be in his school play, Narnia, this spring. We all tried to get him to practice some of his lines with us, but that is a difficult thing to do when you are hiking uphill!
Big Sister Molly & Little Sister Chloe have been matched since early 2021. Molly took Chloe camping for the first time in Flagstaff, and she enjoyed it so much they are planning another trip. Big Brother Steven & Little Brother Charles have also been matched since early 2021, and Charles loves to take photos. Charles had his camera the whole hike, taking photos of the scenery, his Big Steven, and the other Matches that were in attendance. It was a beautiful Sunday, the weather was great, the hike challenging, and we all enjoyed each other's company!
Matches can find these experiences hosted by our Match Engagement Committee as well as free and discounted tickets and opportunities from our Community Partners on our newly designed Think Big website. Other recent and upcoming activities for Matches have included free tickets to the Desert Botanical Garden, complimentary studio fees from As You Wish, and donated tickets to The Phoenix Open.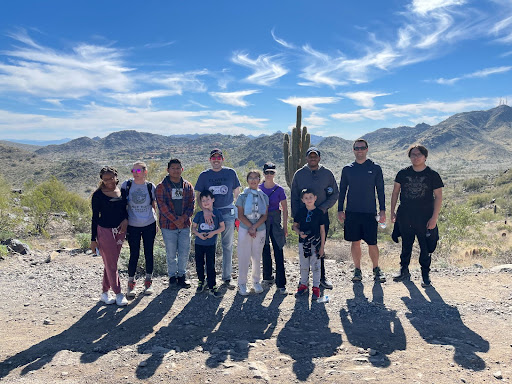 If you have any experience you'd like to share with our Matches, please reach out to Alma Albarran at aalbarran@bbbsaz.org.