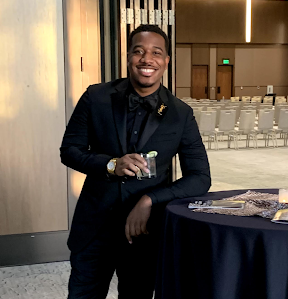 Name: Kevyn Griffen
Employer or Company: Fiserv Inc. which enables money movement for thousands of financial institutions and millions of people and businesses around the world.
Job Title: Sr. Manager, Fraud and Remittance Management
Brief description of job responsibilities: Leadership of 4 Leaders (Managers and Team Leads) and 22 Associates within the Fraud Detection and Remittance Management business units.
Hometown: Phoenix, AZ
Education background: ASU – B.S. Business Management, LSU – MBA – Marketing
How long have you been a member of YPC: About 18 months.
Are you a BIG? Yes. My Little's name is Jalen and we have been Matched for just over a year.
What's the best piece of professional advice you've been given? "Stay uncomfortable and find something to get better at every day"
What's the most played song on your playlist? Beautiful by Mali Music
What three accomplishments, personal or professional, are you most proud of? Being the youngest leader within my peer group at Fiserv, completing the MBA program in 9 months, and being selected to be a "success story" for my company's recruiting/career track marketing productions.
Name your top three personal hobbies or volunteer activities? Fashion, traveling and serving on the board of a Scottsdale charter school.
About the Young Professionals Council
The BBBSAZ Young Professionals Council was founded by dedicated young professionals in the Valley who have a vested interest in shaping Arizona's youth and building a stronger network of support for the agency. This diverse group of individuals, ages 18 to 40, volunteer their time to support BBBSAZ's many initiatives in the community. YPC members volunteer at events, support BBBSAZ volunteer recruitment efforts, and represent BBBSAZ at various community events and networking groups.
The members of YPC are always looking for dynamic community-minded individuals to join their efforts. If you'd like to learn more about YPC, please reach out to Adrian Jamieson at ajamieson@bbbsaz.org or (602) 393-4120.