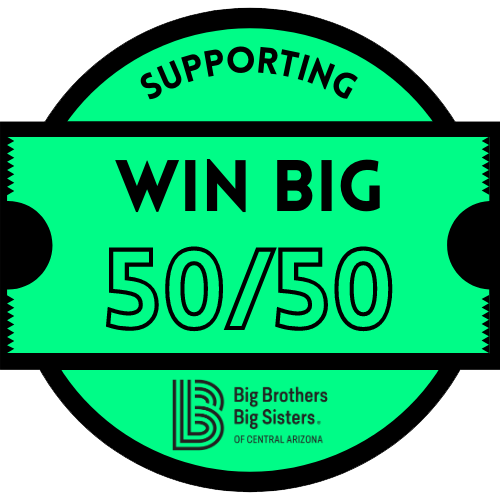 Pivot. Flexible. Resilient. All buzzwords associated with 2020. But what do these words mean for BBBSAZ today, now halfway through 2021? Well, even though some things are starting to go back to "normal," we have not abandoned these words. As we look to start our new fiscal year on July 1st, our team had to decide whether we wanted to play it safe or begin looking for new opportunities to grow our programs. And of course, we choose to grow our programs!
At any given time, our agency has nearly 200 youth on our waitlist. These are children who have said they would like to have a mentor, but we haven't been able to find a Big for yet. Knowing there are always going to be more youth that can benefit from having a caring, adult mentor, the BBBSAZ team is always going to stretch ourselves to do better and serve more kids.
To support us in this next stage of growth, BBBSAZ is excited to announce the launch of our new Win BIG 50/50 Raffle campaign! The Win Big 50/50 raffle campaign will run once a quarter for the next year, with our first round kicking off on June 14th and a grand prize winner being drawn on July 16th.
This first round of the Win Big 50/50 Raffle campaign has two $500 early bird prizes as well as a guaranteed pot of at least $10,000. Tickets can be purchased at www.AZ5050.com in bundles of 10, 40 or 200 and you can check in at any time to see how the pot is growing.
"The goals of this new campaign are to give existing and new supporters a fun and easy way to support the BBBSAZ mission," says BBBSAZ Director of Development, Adrian Jamieson. It costs on average $1,500 to serve a first year Match, including the recruitment and screening of a quality volunteer, ongoing support from a trained staff member, and resources for the Little and their family. "We know that if we want to continue to grow our programs, we will have to be really creative in how we generate revenue moving forward."
For more information on how the Win BIG 50/50 came to be and our goals for the program, check out this video from The Nonprofit Show.