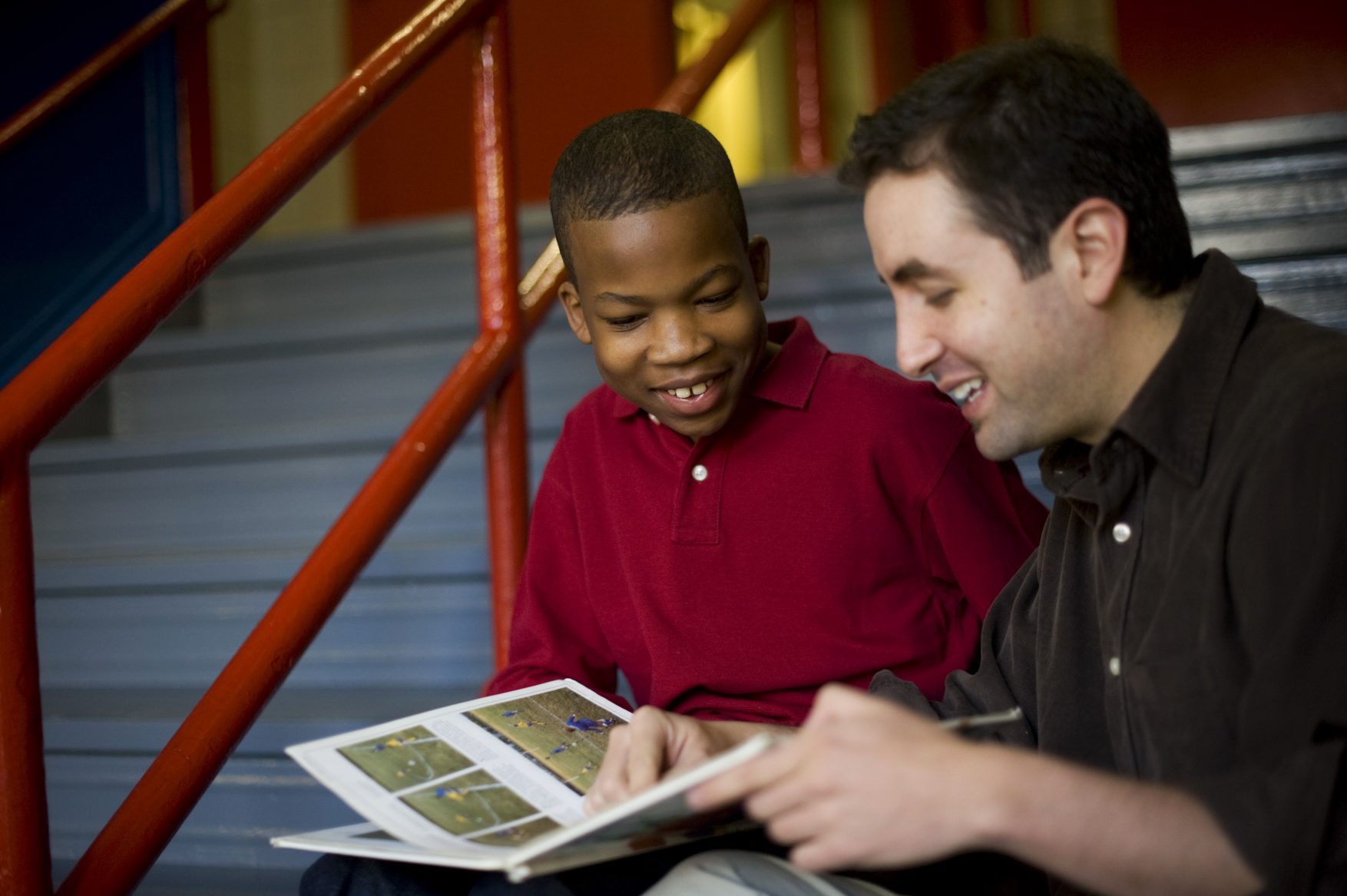 Urgent need for mentors for youth already enrolled at Boys & Girls Clubs of the Valley Colangelo Branch
With a generous grant from the Diane & Bruce Halle Foundation, Big Brothers Big Sisters of Central Arizona (BBBSAZ) has launched a new Group Mentoring program at Boys & Girls Clubs of the Valley Colangelo Branch in Phoenix. The purpose of the BBBSAZ Mentoring Program is to create and support mentoring relationships that ignite the power and promise of youth. The collaborative program will match volunteer mentors (Bigs) to children in need of a positive role model (Littles). The Bigs will meet regularly with a small group of Littles on-site at Boys & Girls Club where Bigs will provide homework assistance, friendship, and model positive behavior.  
"We are so excited to be partnering with the Diane and Bruce Halle Foundation and Boys & Girls Clubs of the Valley at the Colangelo Branch," said Laura Capello, President and CEO of BBBSAZ. "While the majority of our mentoring relationships have been one-to-one matches, we are finding that group mentoring is making a big impact in the areas where we have lots of young people waiting, and not enough mentors to serve them. Kids just want someone to talk to and support them, and this absolutely meets that need. We want to meet kids where they are and this is helping us do that."
Youth who grow up in disadvantaged communities face numerous challenges that their peers with more resources do not. Some of the youth served by BBBSAZ and Boys & Girls Clubs of the Valley face multiple Adverse Childhood Experiences (ACEs), with home lives that can be unsafe or unstable. Without additional support and proper intervention, these youth are more likely to grow up and find themselves struggling with education or involved with crime or drug use. Having a caring adult role model is a key protective factor in helping youth build resiliency.
Using a group mentorship model, volunteers will be able to serve multiple youth each time they meet. By partnering with Boys & Girls Clubs Colangelo Branch, BBBSAZ will be able to reach youth that will greatly benefit from a consistent role model. Volunteer mentors are needed on the 1st and 3rd Monday of each month from 4:00-5:00 pm. A one-year commitment is required.
BECOMING A BIG
Your first step in becoming a mentor is to sign up for a Volunteer Information Session, which will be presented through a 40-minute live webinar. This webinar will give you valuable information about becoming a Big, the Littles we serve, and the support you will receive from Big Brothers Big Sisters. If you would like more information about becoming a Big please visit https://www.bbbsaz.org/volunteer/
ABOUT BIG BROTHERS BIG SISTERS OF CENTRAL ARIZONA
For 67 years, Big Brothers Big Sisters of Central Arizona has operated under the belief that, inherent in every child is the ability to succeed and thrive in life. As the nation's largest donor and volunteer-supported mentoring network, Big Brothers Big Sisters makes meaningful, monitored matches between adult volunteers ("Bigs") and children ("Littles"), ages six through 18. We develop positive relationships that have a direct and lasting effect on the lives of young people.
ABOUT BOYS & GIRLS CLUBS OF THE VALLEY
Boys & Girls Clubs of the Valley empower all young people, to reach their full potential as productive, caring, responsible members of the community. With 29+ Clubs in the Valley, a Dental Clinic, Charter School, and youth outreach services, Boys & Girls Clubs positively impact more than 13,000 youth and teens every year through four key areas: Academic Success, Good Character & Leadership, Healthy Lifestyles, and Career Pathways & Workforce Readiness. For more information, visit www.BGCAZ.org.
ABOUT THE DIANE AND BRUCE HALLE FOUNDATIONIn 2002, Bruce and Diane Halle founded the Diane & Bruce Halle Foundation to extend their sense of caring to the larger community. The Halle Foundation now serves as a statewide leader in providing philanthropic resources for organizations working in the fields of human services, education, health, and culture. The Halle Foundation identifies and funds outstanding nonprofits to ensure that all people can build healthy, productive, and inspiring lives. For more information, visit www.dianeandbrucehallefoundation.org.