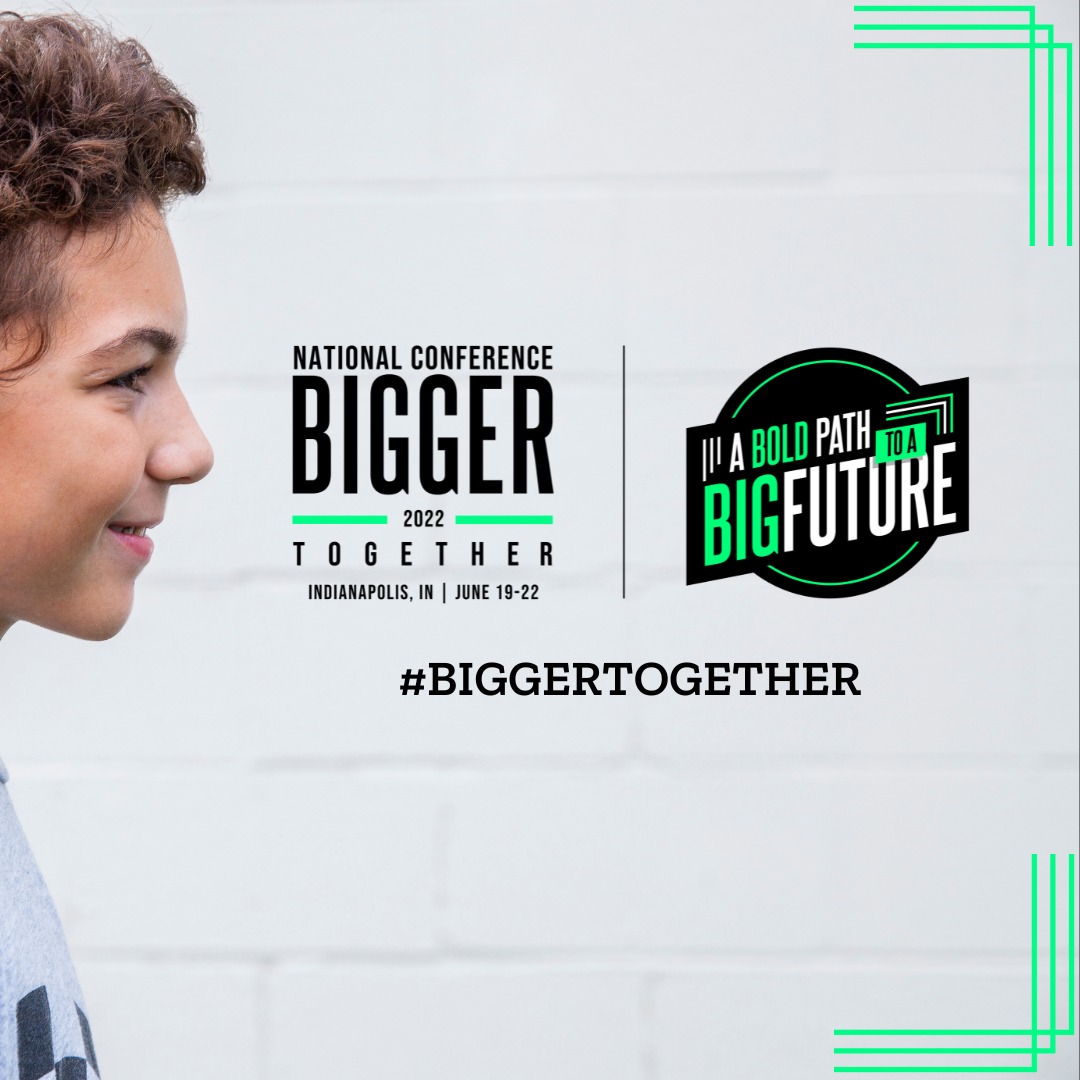 BBBSAZ Heads to Indy for the 2022 Bigger Together National Conference!
The Big Brothers Big Sisters of America National Conference unites and strengthens our national network of 230+ Big Brothers Big Sisters agencies who come together every year to learn, network, and celebrate. The National Conference also welcomes leaders from corporations, community organizations, the field of mentoring, and youth development who are committed to defending, igniting, and empowering the potential of every youth.
WHY WE ATTEND
LEARN– BBBSAZ was able to choose from over 80 live workshops and sessions that featured dynamic keynotes, insightful panel discussions, and valuable training that focused on improving fundraising, leadership development, marketing, and programs.
NETWORK– As an agency, we were also able to connect with other Big Brothers Big Sisters agencies and National Office Staff to share ideas and learn from one another through daily networking events. We loved hearing from industry leaders with the opportunity to ask questions directly in real-time!
CELEBRATE– Lastly, we were able to hear special messages from celebrity guests, be inspired by the Bigs and Littles of the Year, and celebrate our year's accomplishments in serving youth!
STAFF TAKEAWAYS
Among the many things learned during the conference, we are highlighting a few of our top conference takeaways that shaped how we will continue to approach our work with young people at Big Brothers Big Sisters of Central Arizona.
Allow youth to own their stories
The youth panel spoke loud and clear about what they wanted most from their mentors. "Let us tell our stories!"
The conference inspired us to continue providing youth with platforms to share their experiences authentically. To celebrate them and be culturally responsible and responsive as staff and volunteer mentors. We must provide space for more positive youth experiences and support the role mentors play in empowering youth to share their stories and journeys.
Revealed the first BBBS Alumni Hall of Fame Inductees
We honored the first-ever class of Alumni Hall of Fame inductees. The inaugural members of the Big Brothers Big Sisters of America Alumni Hall of Fame are Emily Chen Carrera, Former Big and current BBBSA Board Member, Private Wealth Real Estate Specialist & Chief of Research, Olshan Realty, Inc.; Tory Green, Former Little and current Special Agent, U.S. Secret Service; Kate Snow, Former Big and current NBC Nightly News Sunday Anchor and NBC News Senior National Correspondent; Steve Soboroff, Former Big, Businessman and Los Angeles Police Commissioner; Mark Tillman, Former 3X Big and past General President of Alpha Phi Alpha Fraternity; the Honorable Robert Wilkins, Former Little and current United States Circuit Judge; and the late Don Wolf, Former Big and former president of BBBSA's national board, President Emeritus, Do it Best Corp.
Congratulations to all the inductees!
Best Practices for Recruiting Men of Color to Serve as Mentors
Big Brothers Big Sisters of Central AZ explored strategies and challenges to recruit men of color mentors. Since returning, BBBSAZ has launched a call to action for Men of Color in the community to help create meaningful change through one-on-one mentoring.
Volunteers of color are needed now more than ever to serve as mentors across the Valley, as over 60% of the Littles on the waiting list are young boys of color facing a plethora of issues, including poverty, societal barriers, and a lack of access to a positive adult male role model.
Big Brothers Big Sisters is calling on men of fraternal, social, faith-based, and professional organizations to become Big Brother to a young boy who needs a mentor.
Those interested can register for an upcoming volunteer information session here.
Mentorship as Mental Health Support
With so much happening in the world, it is important for us to step back regularly and assess our mental health. Due especially to the work that we do, it is crucial to consider the mental health of our colleagues, volunteers, youth, and their families. Research provided by BBBS of America shows that "While half of all chronic mental health challenges begin by age 14, it takes over ten years on average until most people access help, with Black, Indigenous and other young men of color least likely to access support." Our staff along with our mentors need resources and training to help them assess mental health situations and address them as needed.
Big Brothers Big Sisters of America has stepped up to the challenge! Teaming up with Futures Without Violence and the National Council for Mental Wellbeing, this new mental health initiative is sponsored by Harry's. The collaboration aims to provide a national network of mental health responders dedicated to helping teens and young men recognize signs of early mental health challenges and connect them to resources for support. We will provide more info on how this will help our Littles as it becomes available.
Check out more highlights by viewing our Sizzle Reel