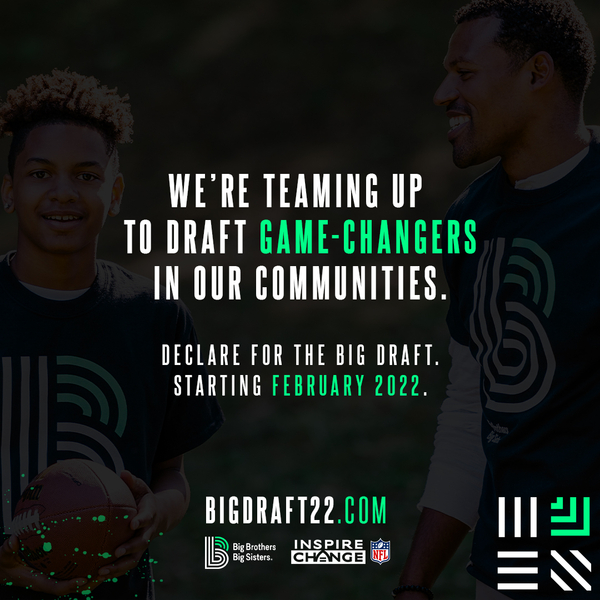 Big Brothers Big Sisters and the NFL Inspire Change Initiative are teaming up to reduce barriers and ensure all kids have equal access to opportunities. While the NFL is drafting the next generation of players, Big Brothers Big Sisters is calling for the next generation of positive mentors to inspire change in communities nationwide.
It's time. Time to make a change right here in our community. Time to be #BiggerTogether. Time to defend the potential of the nearly 200 kids still without a Big- a caring adult mentor like you- to call their own. Our mentoring program helps build bridges and break down barriers by pairing one adult volunteer (Big) with one child (Little) and supporting each Big/Little match at every stage. You can be a difference-maker. In just a few hours a month, you can help inspire a child to believe in themselves. But inspiration takes action. 
We invite you to join us on February 14th as Big Brothers Big Sisters of Central Arizona kicks off our NFL Big Draft recruitment campaign. The NFL Big Draft campaign is geared toward finding the next generation of great Bigs. The good news is everyone is a first-round pick!
We would be thrilled to have your help in sparking excitement for the Big Draft by encouraging volunteers to sign up as Bigs.
Do you know someone who could be a great Big and teammate for a child? Simply tell them. Huddle up and share your story with them. And ask them to sign up at BBBSAZ.org. They could be a true impact player for a child's potential. Together, we can tackle 200 down to zero!
You can help by using your voice to be part of the defenders of potential and ensuring the biggest possible future for our youth.
Follow us on Facebook, Twitter, & Instagram (@bbbsaz) for updates on the campaign and tag friends, family, and colleagues who you think would make great Bigs. 
GET STARTED AS A BIG BY ATTENDING A BIG ORIENTATION & TRAINING SESSION.