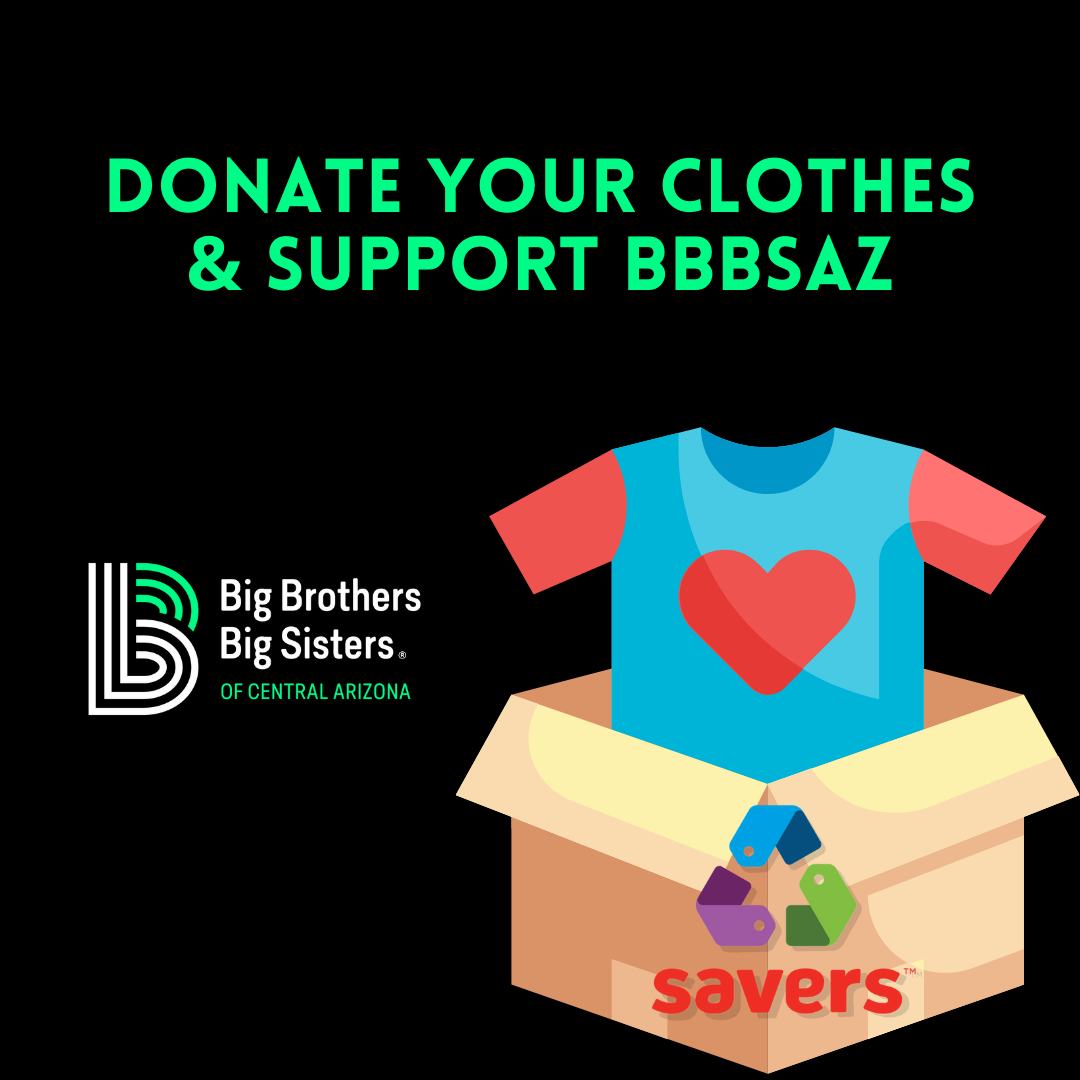 Are your piles of clothes looking for a new home? Don't have any more room in your closet or dresser drawers? Looking to get ahead on some early spring cleaning? Please consider donating your gently used clothing and household goods to Big Brothers Big Sisters of Central Arizona. Did you know? BBBSAZ has an ongoing partnership with Savers thrift stores. Donations collected are sold to Savers which helps fund local programs and services to support our mission. With your help, we can better serve our community, as well as give the donated items a new life outside of a landfill.
If you're looking to schedule a donation pick up online, please feel free to utilize our website here at www.donateaz.org. Please note our website identifies the items we can and can not accept.
If you are looking to drop off your clothing donations, you can also use this link www.donateaz.org/content/collectionlocations (by typing in your zip code) to find a BBBSAZ clothing donation bin located closest to you.
You may have seen our vehicles driving around across the valley or waved to one of our drivers. Our BBBSAZ team has ten drivers who go out into the community to pick up scheduled donations and to pick up the clothing items from our clothing donation bins. Please kindly remember to place all clothing donations inside the clothing bin.
Listed below are some of the statistics of the donations we collect:
Clothing donation bins are gathered weekly with at least 10 bin routes per week.
We have over 350 bins in the Valley.
Our drivers make about 1,000 stops per week.
Our mileage is around 300,000 miles per year.
Last year in 2021, we collected over 4.8 million pounds of clothing and shoes.
A Big shout out to our community for your clothing and household goods donations!
A Big shout out to our BBBSAZ drivers!
Do you have questions about your donation? You can also call our friendly staff at the phone number (602)-230-8900 about your donation or if you would like to schedule a donation pick up.
These kinds of donations matter and make a Big difference.