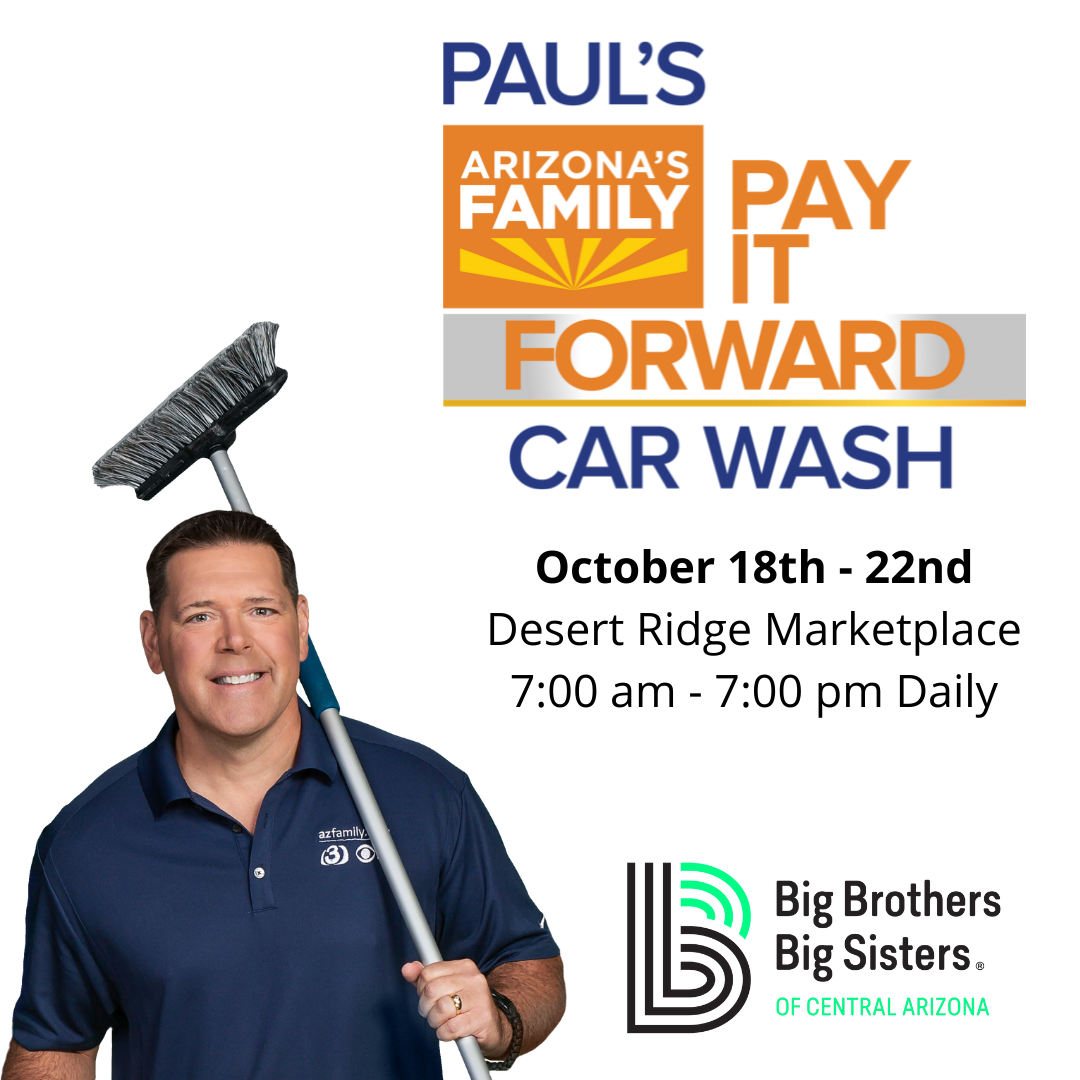 Paul's Car Wash is a week-long televised celebration of the Big Brothers Big Sisters community. Hosted by Arizona's Family Weather Anchor & Community Ambassador, Paul Horton, corporate and community volunteers wash hundreds of cars throughout the week. 
Paul's Car Wash
Oct 18 – 22nd
7am – 7pm
Desert Ridge Marketplace in front of Kohls
This year to celebrate being back in person, we have pulled out all of the stops and have a full schedule of entertainment and special guests to make every day special. Check out the schedule below:
Monday, Oct 18th
8:30am Drive through giveaway hosted by The Fairmont Scottsdale Princess
Noon Fire Truck drive through visit from the Hall of Flame Museum
6:30pm Visit from the Arizona Cardinals and Big Red
7:30pm Performance by The Uncommon Good
Tuesday, Oct 19th
8:30am Visit with Sparky from ASU
9:30am Drive through giveaway hosted by the Desert Botanical Gardens
5:00pm Performance by The Desert Brew Band 
5:30pm Phoenix Suns Night
Wednesday, Oct 20th
9:00am Drive through giveaway hosted by the Arizona Science Center
Noon The Big Truck Wash with SRP 
4:00pm Performance by Basketball Jones
4:30pm Coyotes Night
Thursday, Oct 21st
8:00am Visit by the Phoenix Grind Coffee truck
Noon Visit with the Tender Little Hearts mini horses
5:30pm Live broadcast and DJ from Desert Valley Media
Friday, Oct 22nd 
8:00am Tractor Wash
Noon Visit with the Arizona Ferret Rescue
4:00pm Performance by CTS
7:00pm The Big Check Presentation
New guests are added throughout the week, so be sure to follow us on Facebook to stay in the loop!