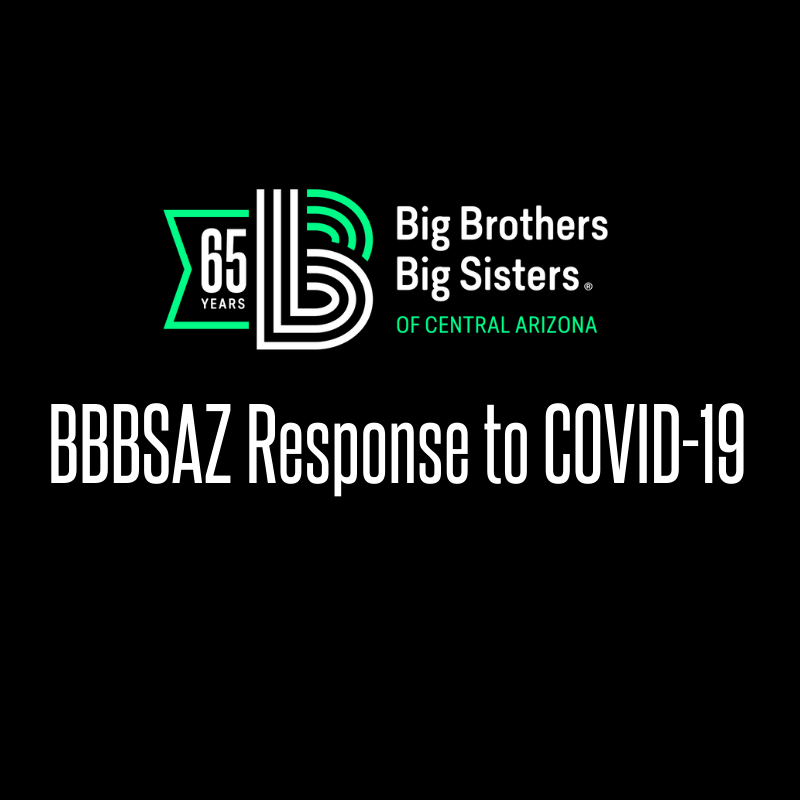 A lot has happened over the last several days — these are unprecedented times. From all of us at BBBSAZ, we sincerely hope that you and your family are safe and healthy. 
As a nonprofit, specifically a nonprofit whose core mission is to defend potential through one-to-one interactions, this crisis is pushing us to make difficult decisions.
But we are confident that we can get through this.
Our mission is more critical than ever, and we still need your support to continue offering our life-changing program to children and teens in our community. We will not lose sight of how programs like ours help combat mental health issues such as loneliness, depression, anxiety, and self-esteem.
We are checking in with our Bigs and Littles on a regular basis and are providing support and resources on how they can stay connected and continue to build a trusting friendship during this time. We are also rallying behind the parents in our program as they face their own challenges as a result of this crisis.
Over the next several weeks, we are going to try new ways of making connections. We are going to create new opportunities for learning and events. And when this is all over, with your help, we are going to bounce back and make our agency stronger than ever.
First and foremost, the safety of our Bigs, Littles, families, and staff is our #1 priority. All BBBSAZ staff began working remotely this past Monday , and they will continue to do so through at least the end of the month. We have cancelled all match-related and agency events including Match Intro Meetings, Match Meet Up Meetings, Match Activities and Lunch and Learns until April 3 (at minimum) and will evaluate the plan daily to make the best decisions possible.
We also issued strong recommendations that Bigs and Littles do not meet in person for the next two weeks at minimum. We recommend Matches focus on building a friendship through virtual opportunities like FaceTime, phone calls, text, etc.
We are so grateful to each of you for your patience, understanding, and support during this time. We know everyone is dealing with their own challenges and we vow to work with the community to do what we can to help others. An easy and free way to help us while you are at home is to donate your used clothing and household items to your local Big Brothers Big Sisters bin (locations on our website) or drop off to a Savers store. You can also call our donation center at 602-230-8900 to schedule a pick-up.
If you have any questions, please feel free to reach out to me at [email protected].
Together, we will all get through,

Laura Capello
President & CEO