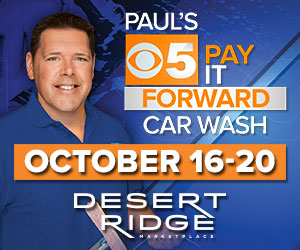 The 10th Annual Paul's Car Wash fundraising event starts on Monday, Oct. 16, and runs through Friday, Oct. 20, at Desert Ridge Marketplace. Each day, from 4:30 a.m. to 7:30 p.m., Paul Horton, chief meteorologist of CBS 5 News, hosts this televised event and joins community and corporate volunteers of all ages to wash vehicles with donations benefiting Big Brothers Big Sisters of Central Arizona (BBBSAZ). As part of the Anniversary celebration, KTVK 3TV will host a second location on Friday, Oct. 20 at Jacksons Car Wash, SanTan location, from 7:00 a.m. to 7:00 p.m. Jacksons will provide up to 1,000 professional car washes in exchange for donations to BBBSAZ. Royal Norman, chief meteorologist of 3TV News, along with other 3TV personalities, will go head-to-head with Paul Horton on Oct. 20 to see which location can raise more money.
"We have a strong commitment to our community," said Ed Munson, vice president and general manager, KTVK 3TV and KPHO CBS 5. "We are proud to pay it forward to organizations such as Big Brothers Big Sisters of Central Arizona who make a big impact in the lives of those who need it the most."
Thanks to KTVK 3TV's, KPHO CBS 5's and Paul Horton's commitment to BBBSAZ, and the contributions by other corporate and community partners, Paul's Car Wash has grown to become a week-long, family-friendly, community event featuring live entertainment and appearances by special guests all focused on supporting BBBSAZ's mission.
Wells Fargo will kick-off the event with a $20,000 matching gift announcement. Other Valley businesses that have joined in to help make this event a success include Jacksons Car Wash, Lerner & Rowe Injury Attorneys, APS, American Airlines, Arizona Lottery, Leslie's Pool Supplies, and many others. Thanks to the generosity of these civic-minded businesses, BBBSAZ is able to provide children facing adversity in Arizona with strong and enduring, professionally supported one-to-one relationships that change their lives for the better.
Viewers and attendees will be treated to entertainment including live bands, radio broadcasts, professional sports teams' mascots and cheerleaders, costumed film and TV characters, unique vehicles, celebrity guests including Arizona's own Grumpy Cat, and more. A full schedule of events is published at cbs5az.com/carwash.
BBBSAZ recruitment specialists will be available throughout the event to provide information about how to become a "Big."  In addition, the Big Brothers Big Sisters Donation Center will be on site to collect donations of clothing and household items. If getting out to Desert Ridge (Oct. 16-20) or Jackson Car Wash, SanTan location, (Oct. 20) is not an option, supporters can make a donation by texting "paulscarwash" to 41444.