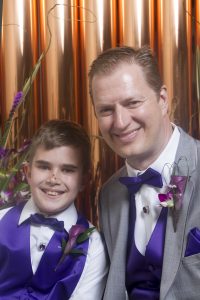 Five years ago, 7 year old Aiden was looking for a Big Brother. He was looking for a man in his life. Someone to play with and talk to. He lived with his mom and 2 older sisters, and while he is close to his family, he craved something more.
Five years ago, Greg was looking for another Little Brother. His first had graduated high school and aged out of the program. But he still craved something more. His son lived in Michigan and had great role models in his life. Why couldn't he be the same for someone else?
The two were matched and share a love of movies and eating. They take lots of pictures of their outings to put in their scrapbooks. They laugh. A lot. And they've taught each other as well. Aiden learned about boundaries and manners. Greg learned to not take life so seriously and have fun.
About 6 months into their match, Aiden spoke from the back seat of the car, cutting the silence. "I'm sure glad you're my Big Brother because I was really lonely before we met." Greg's heart melted. He had felt the same way growing up.
Aiden is now 13. And while the conversations will soon start steering more to big concepts of high school and career goals and life plans, they have each other to lean on and learn from. "When I became a Big, I had the thought in my head that I was going to be able to share all my knowledge with a Little. Come to find out, I was the one who had much to learn and I'm a better person today for it."