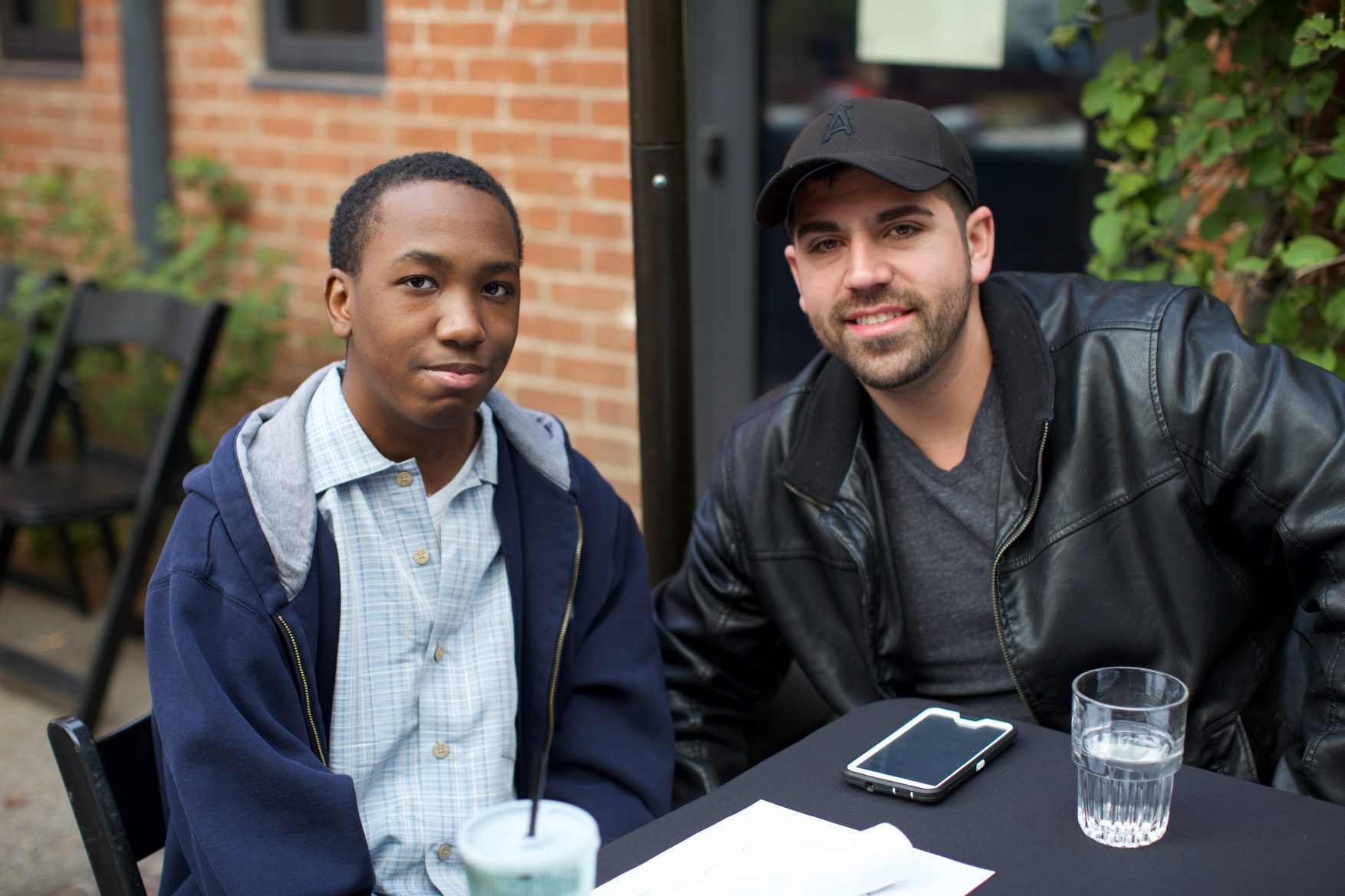 Joey was a withdrawn 14-year-old boy dealing with some serious issues who needed a friend. He met David who not only changed his life, but also reassured Joey's mom Alletta that he'd be there for Joey. And then the unimaginable happened. Joey and Alletta shared their moving, inspirational story which beautifully illustrates the bond between a Little and a Big, and shows how that relationship impacts families and our community.
Alletta & Joey's letter to Big Brothers Big Sisters of Central Arizona Staff about David
The Big Brothers Big Sisters program has touched the hearts of my family in tremendous ways. My name is Alletta and I would like to share my experience with this awesome organization.
My reasons for connecting with Big Brother Big Sisters one year ago went far beyond wanting someone to play ball or games with my son Joey. He's a great kid, humorous, witty and just plain fun to be around. But, things changed for us. Joey's dad suffered a stroke. I was diagnosed with a serious illness. I felt alone for him, as I was not sure if his father nor I would be there for him in his teenage years. Our family lives in Michigan, but Arizona became our home.
I needed help, as I could see the toll our declining health was taking on Joey. His grades suffered and the light in his eyes was growing dim. Joey stopped going to the park or riding his bike. He no longer had friends and became withdrawn. Jennifer Booth, the BBBS case manager, visited our home for the initial interview in 2015. She listened to our family goals and intently began the search for a Big Brother. After a while, Jennifer called with great news! Joey had a match and his name is David. We met David and his wife Dianna in November 2015 at the Big Brothers Big Sisters meet and greet. Joey barely talked or even looked at David during the meeting. David said, "Alletta, I can tell Joe is a great kid, there's something about him and I am going to spend time with him".
It seemed awkward at first, yet it was the start of a genuine friendship. David was 28 years old with a very busy life. He and his wife Dianna were back in college completing higher degrees and working on their careers. Even though David's schedule was already full, he went above and beyond to pull Joey out of his shell. The Big Brothers Big Sister program only requires a couple times a month contact. He and Joey went on outings and hiking weekly for months until David's schedule began to change. In the beginning, David had already made me aware that his career would involve a lot of travel. I wasn't aware of the recent potential move to Sacramento, California but he would always reassure me that Joey will be included in his life. David would say, "Alletta, don't worry about Joe. I'm going to keep in touch and during his school vacations I would love to have him visit me wherever I am."
For the first 3-4 months Joey barely talked about their outings. David would come to the house and wait patiently for Joey, as he was always late coming down the stairs. Joey barely spoke and held his head low. Before they left out of the door, David would always say, "Alletta, don't worry about Joey, he will be okay". Then one day, Joey wasn't late coming down the stairs and said, "Hey David, you ready to go hiking"? David and I looked at each other sort of in shock and relieved that Joey was finally opening up.
Seven months went by and I had a totally different child. Joey actively participated in the youth Kappa league and accepted the leadership position as Sergeant at Arms. He began speaking before his peers and giving impromptu speeches! Joey's grades improved by leaps and bounds from all F's to A's and C's. Joey started going outside, going on walks with the family and playing with his nephews during their summer visit here in Arizona. Joey went on bike rides with his sister Jah'Liah and played with her and friends at the park.
I knew the positive changes in Joey were because of the time and effort David took with him. David and his wife Dianna even spent the entire day with Joe when he was confined to the house for 3 days due to a sleep and epilepsy study. Their visit eased Joey's anxiety. Joey said, "I felt cared for when they spent the day with me."
It was amazing to see the transition in Joey! David and Joey reached their first Big Brothers Big Sisters anniversary this past November 2016. Life was truly busy after the winter holidays and it was time to get back in the swing of things with David and Joey's usual outings.
My heart is breaking as I attempt to explain the next set of events that devastated our lives…
This past Saturday on February 4th, David and Dianna picked up Joey for a hockey game. David greeted me with his usual warm smile and reassurance of his commitment to Joey. David said, "Alletta, I'm going back to Sacramento, California, but I will be back to visit Joey and we'll figure out where we're going next". When Joey returned home from the hockey game, he talked about how cold it was in the arena and how the players were fighting. Then he said, "It was fun!" I just laughed!
From Dianna, I've learned David made plans to teach Joey how to drive after his 15th birthday this year. I remember, he even committed to celebrating Joey's birthday on August 6th with Dianna, as they share the same birthday! Dianna said she was so glad David made Joey aware of how he cared about him. Dianna said, "It's strange how David started talking to Joey, because he was saying things I never heard before." David told Joey that he was family now and he would be there for him. They had a great time talking about the future and how they were glad to include Joey.
But, there will never be a next time with David…
The very next evening, Joey lost his best buddy and mentor due to a motorcycle accident in California. Dianna sent me a message at 2:41 a.m. on Monday through Facebook messenger, but I didn't see it. Jennifer called me at 10 a.m. and I ignored the call because I was sleeping. She is truly a stickler for updates (smile) and I thought the talk could wait. It couldn't wait and Jennifer called again. I sleepily answered the phone and told her I was taking a nap and will call her later. She said, "Okay, but this is important and please make sure you call back. I need to make sure what I have to say doesn't show up on social media first. I don't want you or Joey to find out what's going on through social media."
What Jennifer had to say broke my heart into pieces. As she was talking, I was already summing up the conversation in my head thinking at the most Joey, Jah'Liah and I will drive to California to visit David in the hospital. I wasn't expecting to hear, "He passed away." I mean, Dianna just totaled her car a few months ago and walked away unscathed- so what could be worse?
I am grateful Jennifer could detect the fear in my voice. How was I going to explain this to Joey? Jennifer offered to come over to our home for support. It gave me the strength I needed to endure the pain we saw in Joey's eyes and turmoil in his cry. As I held my son, Jennifer and I could do nothing at first but cry too. I looked at Jennifer and found the words to say to my son. I asked Joey to promise me that he wouldn't go back into his shell. I asked Joey to remember David and allow what he instilled to grow or his time and effort will be in vain. Joey promised me and even though there is pain in his eyes, the light did not dim. I can see Joey is going to keep his promise in honor of David.
Jennifer checks on us often to make sure we are okay. Laura, the BBBS CEO, called me and when she asked how we were doing I fell silent and was struggling with the general pleasantries to say, "We're fine." Laura said, "It's okay, I understand." I was able to speak again and thanked her for the wonderful opportunity Joey had with the Big Brothers Big Sisters program. I poured out my heart and like Jennifer, Laura listened. I told Laura that I don't know what I would have done if Jennifer come to see about us. This organization offered an avenue for Joey in a way I never anticipated. Through David's friendship, Joey's hope and joy for a fun life returned. Now that David's gone, Joey says he will miss him and glad David cared enough to be his friend.
Thank you Laura and Jennifer for the opportunity to share our story. I want everyone to know how this organization reached our hearts and changed our lives for the better!
Writing our story brought waves of healing. I am sure it will become a positive reflection as we honor the memories of David.