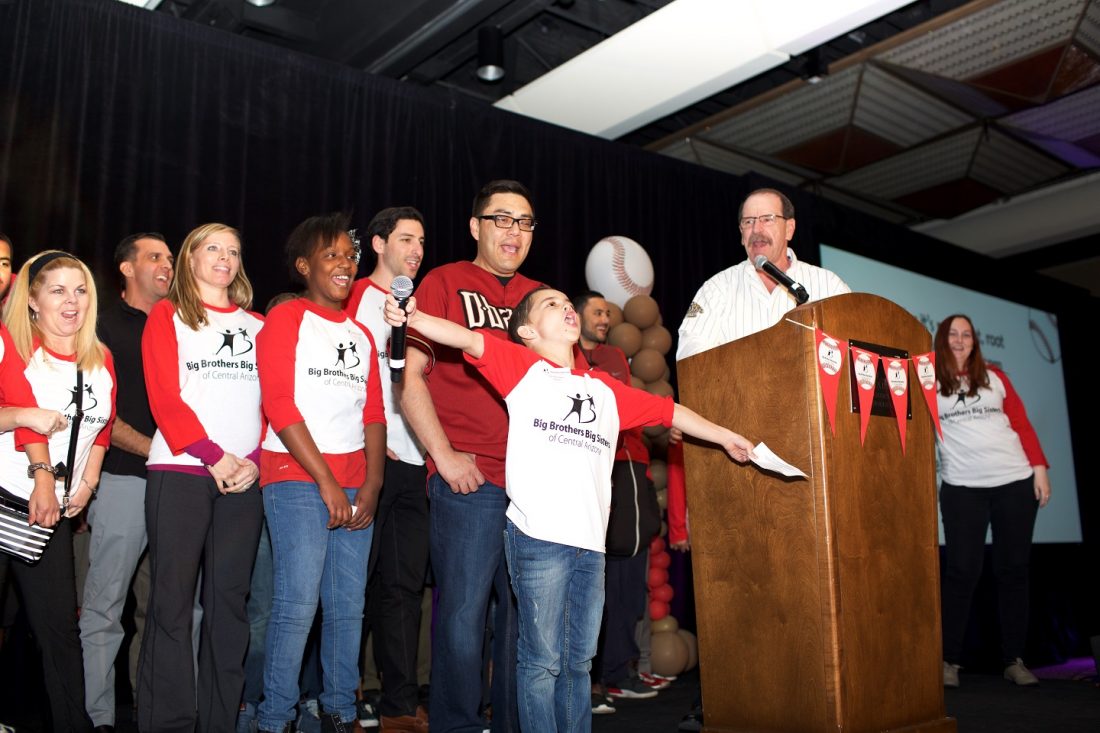 More than 500 friends of Big Brothers Big Sisters celebrated the power of mentoring at Pitch In for Kids held Thursday, February 23, at JW Marriott Scottsdale Camelback Inn Resort & Spa. Thanks to guests and generous donors, the event raised almost $200,000!

It was a game for the ages with a lineup that included Honorary Chair Bob Brenly, Maricopa County Sheriff Paul Penzone, and our All Star match Sam Leyvas and Skyler, and Skyler's mom Kelly. Guests warmed up for the evening at a cocktail party where they mixed and mingled, purchased Mystery Boxes, met several of our Big and Little matches, and posed in the photo booth. During dinner, emcee Paul Horton welcomed the crowd and kept the ball rolling. Sheriff Penzone spoke about how having one caring, committed adult can change a child's life, and that relationship can have a positive impact on the family, the kids' schools and throughout the community. President and CEO Laura Capello talked about Big Brothers Big Sisters programs and how donors make it possible for the agency to match more than 1,500 youth each year with caring, supportive mentors, and provide professional support to make sure those matches are successful.
Board Member Clarence Stallings, a former Little Brother, shared his personal story about his 39-year friendship with his Big Brothers and how it changed his life. Little Brother Skyler, age 9, and Big Brother Sam talked about how spending time together has enriched both of their lives. Skyler's mom Kelly, who has three sons in the Big Brothers Big Sisters program, inspired guests by sharing how the program has not only helped her sons, but has also strengthened their family bond. Baseball legend Bob Brenly talked about the mentors he had throughout his life – personal and professional – who have provided guidance and advice along with way. He invited all of the Bigs and Littles in the room to join him on stage to lead the crowd in a rousing rendition of Take Me Out to the Ball Game! Event Co-chair Pam Giannonatti, wearing her father's childhood baseball jersey, thanked guests for all they do for Big Brothers Big Sisters, and for supporting programs that change lives for the better.
Thank you to our Grand Slam sponsors Fry's Food Stores and Sunstate Equipment Co., and all of the companies and individuals that sponsored Pitch In for Kids.